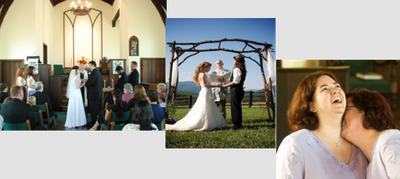 You or a couple you know are planning to get married, and you are searching for a location for the ceremony. Great, we think that our church has a beautiful Gothic chapel, located at the top of picturesque Monument Terrace. Why should you choose First Unitarian church over the many other possibilities in Lyncburg? We welcome all to hold their wedding here, but see if you identitify with any of the following.
You have found yourself uncomfortable in many churches
Come discover what an open and accepting community we have. Whether you want a traditional ceremony, a Humanist ceremony, something "spiritual, but not religious" or neo-pagan, we support all expressions of love and commitment. Our minister will work with you to craft a ceremony that is a true reflection of your relationship and the sacred promises you will be making with one another.

You are part of the LGBTQIA+ community
Marriage equality has come to Virginia, which now recognizes same sex weddings. Whomever you love (straight, gay, lesbian), as a welcoming congregation we are happy provide the dignity of a church wedding for all.

You hold a liberal or humanist view of spirituality
Really? Where else would you go in Lynchburg but First Unitarian Church.


The legalization of same sex marriage in Virginia came much faster that we (or most people) were expecting. We do intend to have a unified, inclusive wedding brochure, but for the moment we have two brochures to make it clear that we welcome both traditional and same-sex couples. If you are interested in a wedding at First Unitarian Church, check out both of our two brouchures with the tabs above.