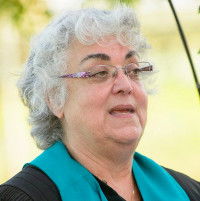 Friends,
Our theme for May is "Embracing Beauty," a perfect topic for this time of year in Lynchburg. The cherry trees in April have been amazing. The beauty of our part of the world is particularly precious this year as we watch daily horrors on the media. And we know there have always been horrors. Sometimes we just turn away. But the horror in Ukraine has felt close and personal for many of us, just as different tragedies have hit others the same way. Sometimes we can't hold all the pain in our hearts and minds.
We live such rich lives. We don't always realize it. We are surrounded by so much beauty. It is good for us to want to protect the best aspects of our lives, including democracy herself, for ourselves and others in our nation. AND we need to encourage democracy and justice and peace for other people around the world in ways that they choose for themselves. Perhaps in this precarious time we are more awake to our abundant blessings and to our commitment to share our abundance with others.
What better way to reflect of our abundance than to begin May honoring the ancient celebrations of Beltane and Mayday. With people all over the world who have celebrations on the first of May, let us honor and celebrate our place in the world, her cycles and seasons. With people of many cultures and beliefs let us share our blessings to embrace the beauty of our world.
Blessings, Terre