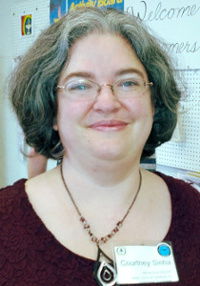 "Let us light our candles, symbolizing our hopes that spring may take place in our hearts as it warms our world." – Charles Flagg
As I'm writing this column, I realize we have been back to in-person services for nearly a month now! It has been a wonderful experience and I am so thankful to share it with all of you. I appreciate your ongoing patience as we work through our growing pains in the technology realm. We are fortunate to have so many experienced and generous folks sharing their talents to help us work through the glitches. My thanks to everyone working with us to make these hybrid services a reality. I suspect that hybrid services in some form will be our style for quite some time, if not permanently. Our large umbrella is made even bigger when we are able to provide access to our services in varied ways.
As we enter into the spring season, I am looking forward to the ongoing fellowship opportunities within our church community. Coming up later in the spring will be our Services and Goods Auction. Watch this space for more information to come, including a date. Until then, be thinking of what delightful offerings you will bring to the auction table this year. I have enjoyed the spoils of my winnings from last year and am excited to see the offerings this year.
The Nominating Committee is hard at work to finish up the nominees for Board positions for the coming year, as well as several committee spots that are available. If you are interested in learning more about what positions are available and how you can be part of the leadership in the church or more active in our community, reach out to any member of the Nominating Committee or anyone from the Board and we will be happy to tell you more.
Spring is in the air and the fresh air, warm sun, and vibrant colors are a joy to behold. I hope you are finding peace within the changing of the seasons.
Blessings,
Courtney